Keystart graduate program
Start your career with Keystart's first graduate program.
Our graduate program is an exciting opportunity. It will be an experience that you will take home with you. It will occupy your thoughts and may even strike you with vivid recollections at odd moments in your life.
The program will test you and will occasionally make you reach deep inside yourself for strength and patience, but we know you'll find yourself rewarded with the satisfaction that you are offering people a chance to achieve their dream.
About our graduate program
As a Keystart graduate you will:
spend two years rotating across different teams building a diverse range of skills that you will be able to use throughout your career while you gain exposure to a range of potential career paths;
put your degree into practice within a socially-minded organisation focused on delivering exceptional outcomes for its customers;
have access to mentors with years of experience who have worked across numerous industries around the world that are committed to helping you succeed; and
build transferrable skills through a range of learning and development opportunities.
We're looking for graduates who are great at:
providing exceptional customer service;
working as part of a team because two heads are better than one;
thriving on change as a positive measure of progress; and
believing in people until proven otherwise.
If this sounds like you, and you're excited by the opportunity to take part in Keystart's first graduate program, then we'd love to hear from you.
Head to Studium to start your profile now
Once you've created your Studium profile, be sure to search for Keystart and register your interest in the talent group "Keystart 2021 Graduate Program". The video will guide you through the simple process.

How to apply?
Q

Are you eligible?

A

You need to:

be completing your final year or have completed since 2019;
have achieved a credit average or above throughout your finance or business degree; and
live in Western Australia, be an Australian resident and be able to gain a suitable police clearance.

Q

Ready to set up your profile?

A

Keystart has partnered with Studium to recruit our graduate positions.

To apply, just click on the apply now button on this page and set up a talent profile.

There are people at Studium who can help you and you can reach them via the apply now link above.

Q

What are the next steps?

A

You may be asked to take part in interviews, online and workplace assessments.

If you are shortlisted for the position we will provide you with detailed information about the assessment process and how long it will take for us to reach a decision. Good luck!
Keystart's continued success is dependent upon attracting and retaining talented people. A key source of this talent is derived from the graduate community. Keystart is committed to developing emerging leaders who will make a strong contribution to our future.

Paul Graham

Chief Executive Officer

I am personally really excited about the launch of our graduate program, having started my career in a similar way. Working at Keystart will give you the opportunity to do meaningful work, learn a lot of transferable skills and contribute to the investments we are making across processes, technology, data analytics and the customer and employee experience. We have a brilliant working environment, great culture and offer a lot of flexibility and opportunity to those willing to invest in their development put in the discretionary effort as part of a highly engaged team.

Lindsay O'Sullivan

Chief Operating Officer, Keystart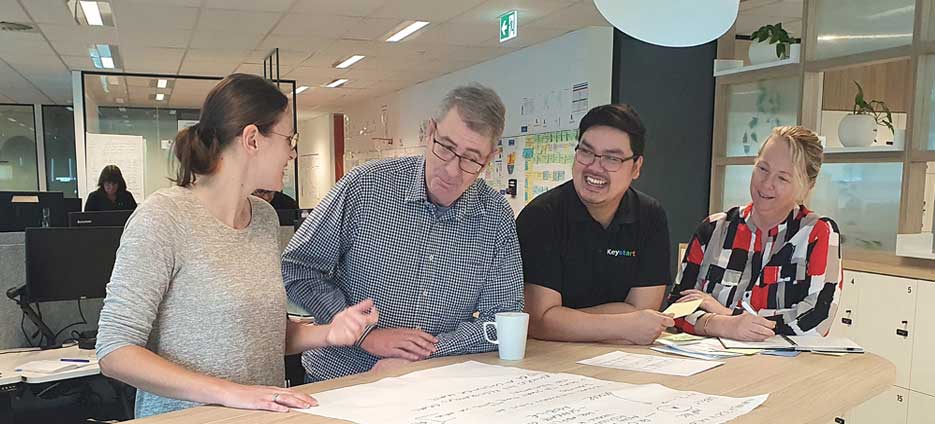 A team with a vision
We're passionate about making the dream of affordable home ownership a reality for more people. Everything we do is focused on this vision.
Compassion and empathy, combined with intelligence and agile thinking, create a 'good' Keystart staff experience. This calls for a blend of sharp minds and compassionate hearts to create the best systems and outcomes. If we get that balance right, we'll be doing the best possible job for our customers and ourselves.
These are our values.
The better we know our customers, the more we can help.
The whole picture. You seek to understand the full, unique circumstances of each customer.
Pick up where they left off. For every customer interaction, you take the time to review their history and respond to their current needs.
Unbiased partnering. You're holding the customers' hands and walking them through this point in their journey.
Never give up. You're tenacious in finding solutions that could help our customers.
We help each other to help our customers.
Talk it out. You choose face to face communications over any other form.
The bigger picture. You're willingly accountable for your piece of the puzzle - and have an appreciation of all other pieces.
Supportive. You're never too busy to stop and think about the way you can help someone else.
You deal with the realities of life. You empathise and show compassion towards your colleagues.
Two heads are better than one. You believe in reaching out to others for help and advice.
Giving thanks. You're quick to appreciate others.
We adapt to deliver the best value for our customers.
Nothing is impossible. You're always motivated to try better ways for our customers.
Always be alert. You know when the impact of the change can be greater than the individual.
Change feels good. You feel that change is a positive measure of progress.
Endless boundaries. Our policy provides you with a starting point for delivering better value for our customers.
Together we are responsible for protecting our customers and Keystart.
Conscious decision-making. Your deliberate decisions safeguard our customers.
Stand up to make things better. You back your instincts to support someone in a moment of need.
Own it. You're 100% committed to following through for customers.
Give people a chance. You always believe in people until proven otherwise.