About Keystart
Family moves into Mirvac Affordability Experiment home
---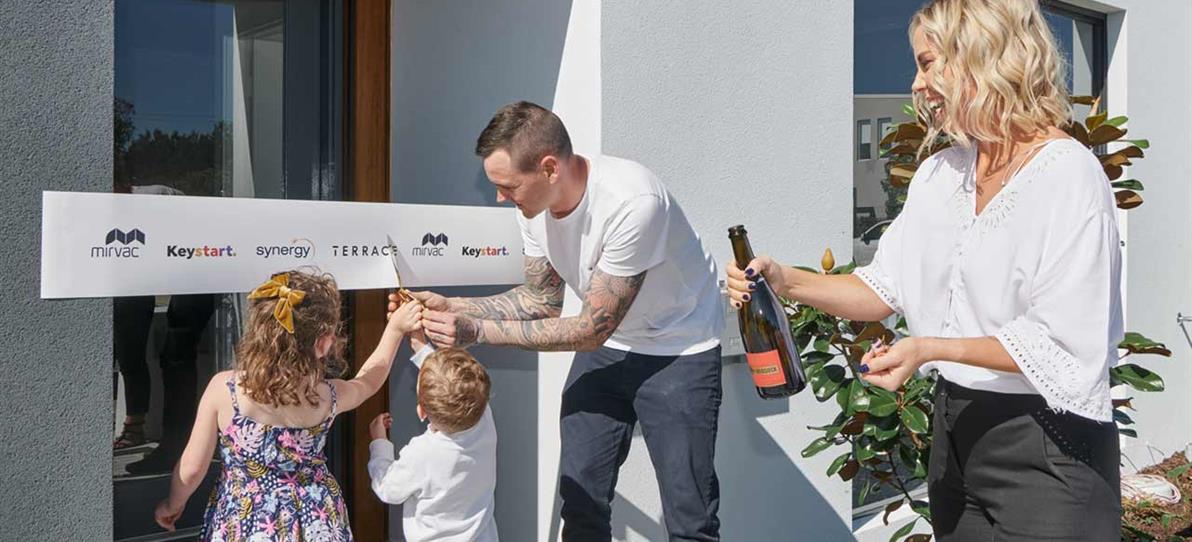 In partnership with Mirvac, Synergy and BCG Housing Group's TERRACE, Keystart is proud to announce the beginning of the Mirvac Affordability Experiment, with the Purcell family recently moving into the affordable and sustainable home. This industry-leading experiment aims to address the challenges of affordable housing, both in terms of the initial purchase price and on-going living costs.
The family
The Purcell's are a family of four who will be moving into the three-bedroom, two-bathroom home. They were selected following the launch of the experiment in late 2019.
Jackson Purcell says his family are thrilled to have the opportunity to be a part of Mirvac's Affordability Experiment and are looking forward to getting a better understanding of the lifestyle and financial benefits an efficient home could deliver.
The Affordability Experiment
Throughout the 12-month period, the Purcell family will have their utility-consumption, spending and saving patterns, as well as lifestyle impacts, monitored to help gain an understanding of the cost savings that can be achieved by living in an efficient home.
This will enable the family to pay 'rent' which will be saved and refunded to the family for use as a deposit on the home should they choose to purchase it at the end of the experiment.
Key learnings from the Affordability Experiment across the areas of finances, energy, water, landscaping, technology and automation will be monitored throughout the 12-month period.
Keystart's role
Keystart CEO Paul Graham said the Mirvac Affordability Experiment was a fantastic opportunity for the organisation to showcase how it worked with Western Australians to make the dream of affordable home ownership a reality.
"The Purcell family were the perfect candidate for the Experiment, and it's been fantastic working with them to realise that home ownership was not as out of reach as they once thought."
The home
Situated on a medium-density lot at Iluma Private Estate, the 165sqm home built by BCG Housing Group's TERRACE features three bedrooms, two bathrooms and a two-car garage.
The kitchen and living areas are located on the upper level to maximise views over the leafy Pegasus Park.
The home and land package comes complete with a number of additional sustainability upgrades and finishing items, including solar panels and batteries, home automation, water-efficient garden and energy and water-efficient appliances.