News and announcements
Keystart customers are first family to enter home ownership through Jalbi Jiya program
---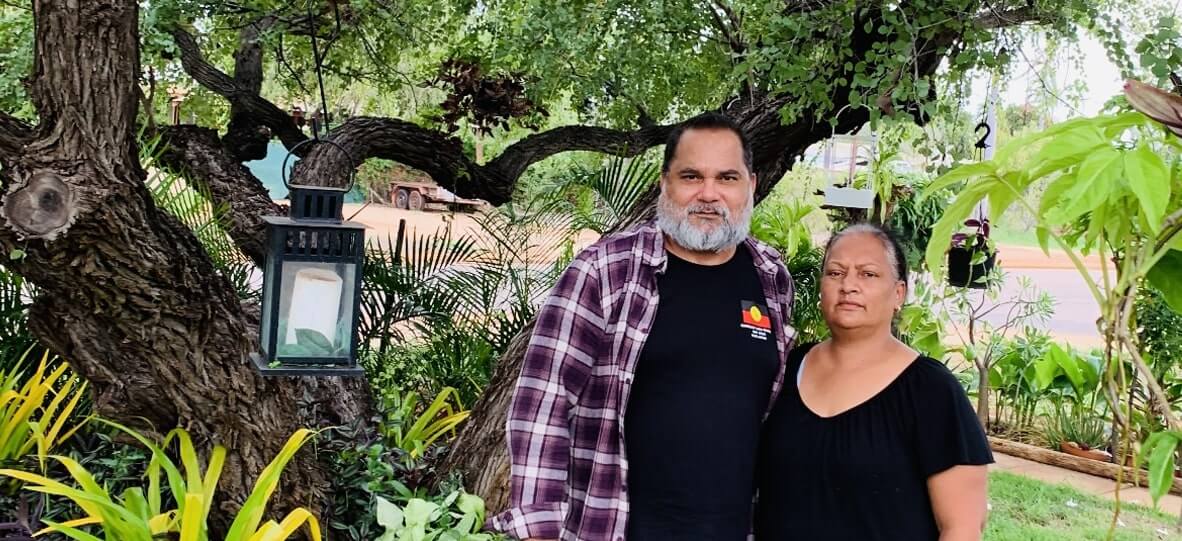 Mervyn and Cathryn have entered home ownership for the first time through the government's Jalbi Jiya program. The Jalbi Jiya program was established in 2020 and co-designed and delivered by Nyamba Buru Yawuru, the operational company of the Yawuru people. The program provides a pathway to home ownership for eligible Indigenous people living in Broome. It is funded through the McGowan governments $200 million North-West Aboriginal Housing Fund. Keystart has partnered with Nyamba Buru Yawuru to provide a home ownership pathway for eligible Yawuru people selected to participate in the Jalbi Jiya program. Keystart is proud to have been a part of Mervyn and Cathryn's home ownership journey.
"We left Darwin after Cyclone Tracy, my mother was a single mum and she struggled with raising seven kids while moving around Australia. We lived in rentals and communities. I never really understood what it meant to own a home." – Mervyn
When Mervyn, a Jabirr Jibirr and Bardi man, moved to Broome as a young adult and met his now wife of more than thirty years Cathryn, a Yawuru woman, his eyes were opened to what a home could mean to a family.
"My wife was raised in Broome, and her family lived very differently to mine. They owned and grew up in a home."
Mervyn says his wife's father had a remarkable character and was a true mentor. Even now in his fifties, Mervyn says the man's influence has instilled in him a lifelong desire to take care of and provide for his family.
Mervyn and Cathryn have lived in and raised their five children in Broome. They've moved between rental properties and communities with their family, as Mervyn's job in finance sometimes took them to remote areas.
They'd always hoped to own a home of their own but had not been successful when applying with traditional lenders in the past. Mervyn said that the cost of living and raising five children made it hard to save for a home deposit. Now in their fifties it still would have been impossible to save the deposit amount needed for a traditional lender. It is the largest barrier they have faced, in making their home ownership dream a reality.
But, through the
Jalbi Jiya program
Mervyn and Cathryn have secured a home loan with Keystart and purchased an eight-year-old home in Broome.
"For us, this has been a very quick and positive experience – the people we are working with at Keystart have been so helpful. It really wasn't a difficult process, and I commend the support that was given to us."
They were attracted to the house because it is still relatively new and didn't have much landscaping, so they've been able to plan and plant their very own garden.
"Finally owning our own home is the icing on the cake. We've strived and worked really hard to be in this position, and now we can call ourselves homeowners. It is really amazing."
As a close-knit family, Mervyn says that owning a home is important to him and his wife for a number of reasons.
"This is where we all gather now, and that's really important – it's our family's connection with each other, with the land, and place to come together. Owning our home in Broome is also about our descendants, we are closely bonded to them here. Being Aboriginal, we feel like we have a piece of land on our country. That's important."
And while all of their children are adults now, this home brings their family security, now and into the future.
"The security we have now is important, it means we have something to leave our kids and a place for our family to come together and stay if they need. We still have two of our boys at home, and I am glad they are here. The rental market up here is really tough, and we are more than happy to accommodate them. I hope they get to own a home too one day. Options like Keystart and the (Jalbi Jiya) program make home ownership more attainable. I want that for my family and my community."
With five children, four grandchildren (and a fifth on the way), family gatherings at the house can get a little crowded – but Mervyn says he wouldn't have it any other way.
"This is something I have wanted for my family for thirty years, and now, we finally have a home of our own."