Industry news
Let's get back to business
---

While sectors of the property industry continue to grapple with the influx of activity spurred on by State and Federal Government pandemic spending, here at Keystart we are now back to working at pre-stimulus response times.
From application through to final approval, Keystart's average application response has returned to 18 working days.
Increasing property values
Similar to the soaring popularity we've seen in new home builds, established home values in Perth have turned around remarkably fast considering the downturn we found ourselves in this time last year.
When comparing the top 10 suburbs in Keystart's loan book (those with the highest number of active loans) with Perth suburb median price data (REIWA) for the past 12 months, there has been an average increase of 11.9% in home value.
Initially the growth in value of established builds were very much felt in Perth's inner and more cosmopolitan suburbs. At Keystart, we are very happy to see the wave of increased value is now widespread and being felt across all price points and markets.
Some of Keystart's most customer-populated suburbs seeing value growth include Banksia Grove (17.6%), Yanchep (16.2%), Eglington (16.5%), Ellenbrook (15.6%) and Baldivis (12%).
Record refinancing rates
In line with industry trends around property value increases and record low interest rates, we have seen a steady increase in refinancing rates at Keystart.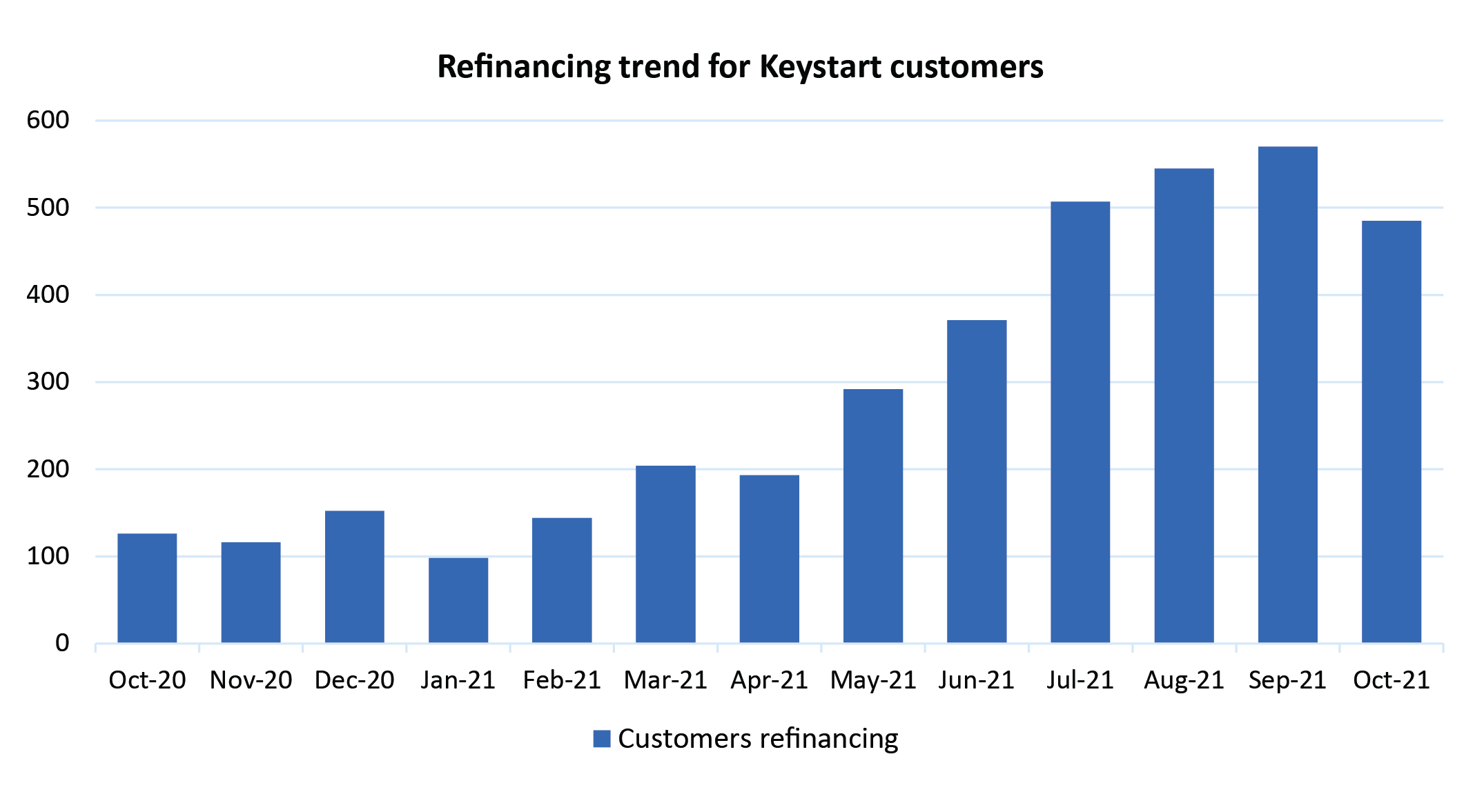 The number of Keystart customers refinancing has increased by 526% over the last twelve months
As a transitional lender, we work with customers to get their foot in the door and then build equity in their homes. Once it is suitable for them to do so, we encourage our customers to refinance to another lender who may offer lower interest rates and other loan features.
Over the past 12 months we have seen a significant increase in refinancing rates, as our customers are spurred on by increased property values and low interest rates.
On the horizon: 2022
As we look forward to 2022, Keystart will be celebrating a number of announcements to advance and innovate our role within the State's housing eco system and increase affordable housing opportunities for Western Australians.
From all of us at Keystart, we wish you and yours a very happy and safe festive season.