Tips and how-tos
Ready to move out of home? Renting v buying
---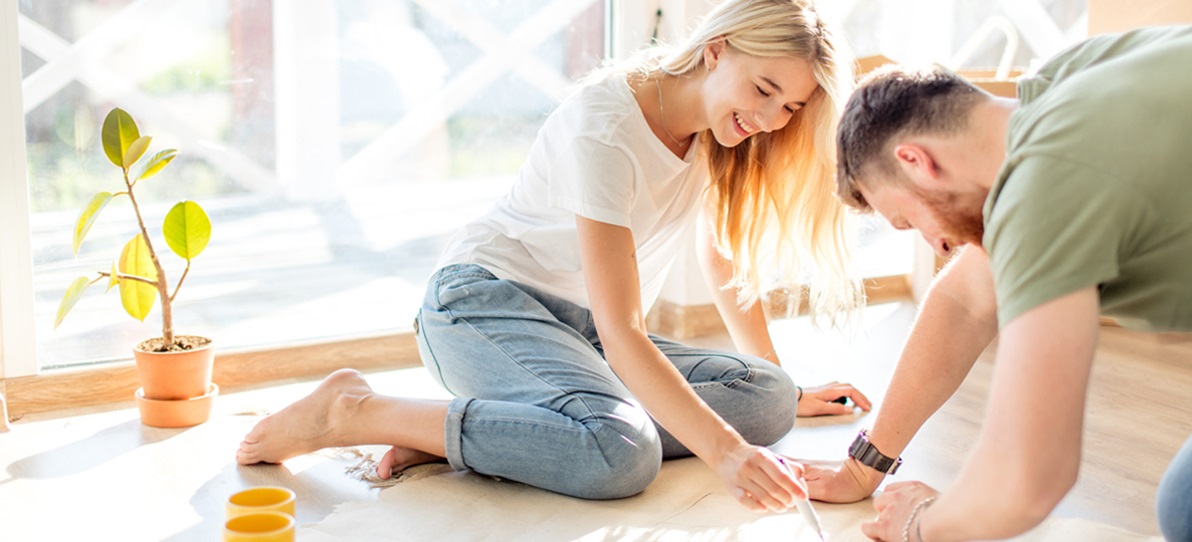 Choosing whether to rent or buy a home is an exciting decision. Either way you'll have more freedom and independence. If you're ready to make the leap, we've put together some pros and cons to help you weigh up your options.
Home sweet home
Rise in house value over time
Possibly the biggest advantage of owning your own home is that you have an asset that can increase in value over time. The Domain House Price Report showed Perth house prices increased by 12.3 per cent for the 12 months to June 2021. While housing prices are subject to fluctuation, this is still a big motivation for most people.
Making your place your own
When owning your own home, the freedom to renovate your place is a welcome change from the restrictions you can face when renting, especially if you have a particularly tough landlord! If you want to knock a wall or re-tile your bathroom you can do so as you please.
"Owning my own home is important because that's where my children will grow up, it's where we will make memories together as a family and because it's nice to have somewhere that will always be home."
Keystart customer
Foundation for the future
Home ownership is an emotional milestone and can bring a great sense of pride and achievement. In a recent survey, our customers told us they wanted the security and stability of having their own home and a legacy to pass on to their children.
"By owning my own home I am securing my future and the future of my child."
Keystart customer
Considerations when buying a home
Upfront costs
There can be significant upfront costs when buying a home such as your home loan deposit as well as the fees and charges that go along with it. If you are a first home buyer there may be some help for you with the First Home Owner Grant and transfer duty concessions. Read more here.
Paying interest
A home loan is a loan. We will charge you interest on the amount you borrow so interest repayments are an important consideration. Interest rates change over time so you need to be comfortable with your repayments. Try our repayment calculator to see how different interest rates affect repayment amounts.
House prices can go up – but they can also go down
While house prices have consistently risen over the long term, the market can also have periods of weak growth and homes can fall in value. It may help to think of home ownership as a long-term investment strategy.
Ongoing costs
Owning a home comes with a lot of responsibility, this includes keeping up with the maintenance of your home. When renting, if an appliance broke or a maintenance issue arose, the landlord or property manager would arrange to have it fixed at no expense to you. These new costs are important to keep in mind. It might be a good idea for homeowners to have an emergency fund for the unexpected.
There are also ongoing fees involved in homeownership such as shire rates and water bills. Once a year you'll receive a bill from your local council. This cost is based on the potential rental value of your home and covers the services and facilities provided by your council. Every second month you'll get a bill from the Water Corporation for your water usage and the cost of providing you with water and drainage. This article can help you prepare for these costs.
Advantages of renting
Flexibility
While owning a property gives you stability, renting provides you with more flexibility. If you're not sure what area you want to settle down in or you travel a lot for work, renting may be the better option for you.
Low ongoing costs
Renting has some financial benefits such as lower upfront costs. Generally, only a four or six week bond is required when signing a new lease, meaning there's no pressure to have a lot of money saved up. There's also the benefit of not having to pay for maintenance and repairs, freeing up your disposable income for yourself.
Considerations when renting
Return for your landlord - not you
Your rent payments go to the owner of the rental property. When buying a home and paying off your home loan, you're paying into an investment that may increase in value over a long period of time, growing your wealth, not your landlords.
Lack of stability
As much as renting gives you flexibility, it also brings a lack of stability. Leases are rarely longer than 12 months and there's the risk that you can be asked to leave with just one month's notice or less.
Rental regulations
Regular property inspections can be a headache. Couple this with the fact that you're unable to make major changes, renting can take away the feeling of home. Long-term it can be difficult not being able to put your personal stamp on your rental.
Rising rent prices
Perhaps the major frustration with renting is the lack of control you have over rent prices. Perth rent prices are currently at a six-year high. The Domain Rent Report stated Perth has recorded the strongest annual growth of all Australian capital cities from April 2021 to June 2021, with the average rent price being raised $80 per week since June 2020. Making renting a less favourable and less affordable option.
There are many factors to consider when choosing whether to rent or buy, and there's no one size fits all approach. Weighing up the pros and the cons of your personal situation and doing your research is a good way to help you figure out what's best for you. We recommend seeking out independent financial advice from a professional to give you a better idea of your options before making your decision.